Nursery Admissions
SPACES AVAILABLE FOR SEPTEMBER 2021
From September 2021 we are offering
Morning Session 8:30am - 11:30am
Afternoon Session 12:00pm - 3:00pm
Please click on the link below to apply for a place or contact the school office on 01733 566990 for more details.
Further information can be found further down this page.
Thank you.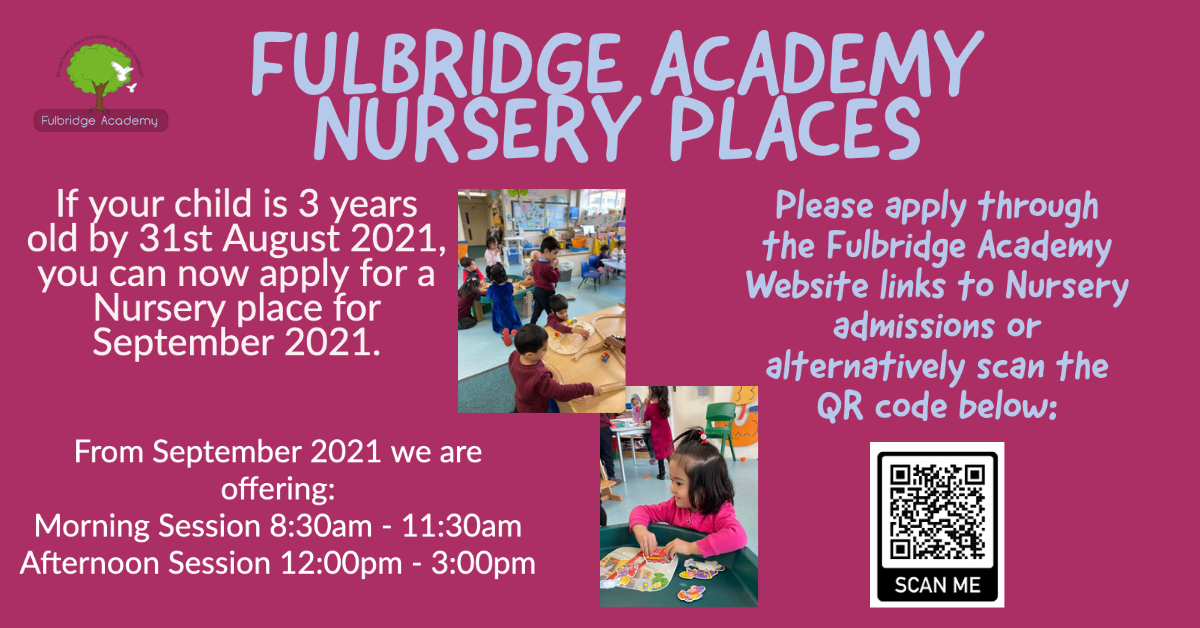 Nursery: Magic Kingdom- 15 hour funded places
We are a 40 place Nursery Class for children aged 3-4 years old.
Children can start our Nursery the term after they have turned 3. If the Nursery is full we will place you on our waiting list.
From September 2020 the Fulbridge Academy Nursery will be providing morning sessions only 8.30am - 11.30am.
The morning session is for 40 children aged between 3 -4, it is a very popular nursery and most times of the year the Nursery is full.
To make an application please follow the link at the top of this page.
Confirmation of your application will be sent to you by email.
Morning session for 40 children 8.30am - 11.30am.
The Nursery Class has a high ratio of experienced nursery staff.
We offer exciting hands on experienced based learning with access to the full school environment both indoors and outdoors.
Graded "Outstanding" as part of the Ofsted Inspection in March 2012.
Enquiries can be made at the main Fulbridge Academy office (Pixie Hollow) and applications can be made using the yellow link above.
You can follow Magic Kingdom on Facebook by clicking here.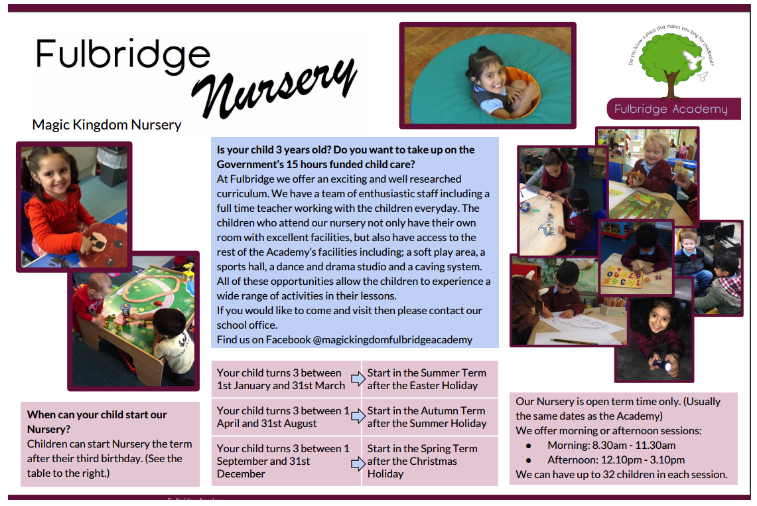 Registration and admission dates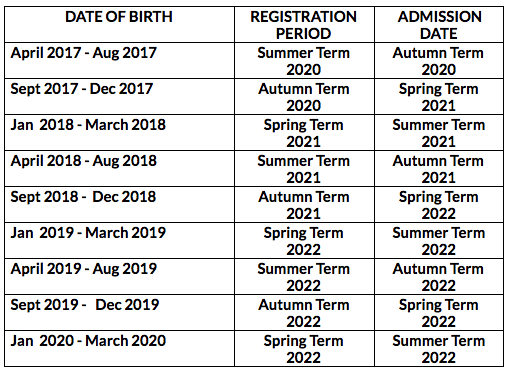 IF THE NURSERY IS FULL WE WILL PLACE THE CHILD ON WAITING LIST AND ALLOCATE PLACES ACCORDING TO OUR CRITERIA.
---