Ethos & Aims
At Fulbridge Academy our overriding aim is to ensure that we improve the lives of the children by enabling them to enjoy learning and fulfil their potential by developing the resilience, curiosity, knowledge and skills required to be successful. There is a moral purpose and underlying rationale to all we do:
We ensure the curriculum is fit for purpose

Our pedagogy gives children the best chances to succeed

Staff have an excellent work life balance
At Fulbridge Academy we have designed an innovative, knowledge-rich curriculum that will PREPARE children for their future. It is informed by research and shaped to meet the needs of our local community. Our curriculum enables each child to develop an ACTIVE mind, identity, heart and voice. The knowledge and skills of the curriculum are thoughtfully sequenced so that children remember what they learn and understand the key concepts of each subject.
'Active Learning' is a framework that supports our 'curriculum offer'. It covers all the things we teach and the ways in which we teach and educate the whole child.
Active Learning is split into four sections: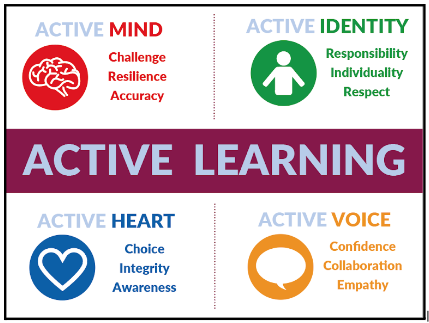 Active Mind - The academic side of all we teach. There is a strong focus on reading because of the way reading supports children to learn through the rest of the curriculum.
We want to enable every child to become a fluent, enthusiastic, lifelong reader with a foundation for understanding the world and a positive attitude to learning.
Active Identity - The children's recognition of themselves in context. Do they have a supportive understanding of who they are? Where they come from? Their place in the world?
To ensure every child is proud of who they are and has a positive understanding of their community, heritage and background
Active Heart - The children's understanding of other people and how they relate to other people.
To ensure every child understands the importance of respectful relationships and an appreciation of the diversity in the world.
Active Voice - The children's ability to express themselves, to communicate and to collaborate.
To ensure every child develops the confidence to express themselves clearly and the empathy required to collaborate with others.
The four aspects ensure we are looking at the whole child when we are supporting them to fulfil their potential by developing their curiosity, resilience, knowledge, creativity and skills.