Child Protection & Safeguarding
Fulbridge Academy is committed to safeguarding and promoting the welfare of children and expects all staff, governors and volunteers to share this commitment.
At Fulbridge there is nothing more important to us than the physical and emotional health and well-being of our pupils and staff alike.
You can contact or speak to your child's class teacher after school, speak to a member of the Senior Leadership Team or our Safeguarding Lead, all of whom are happy to talk though any concerns or worries you may have.
We have a number of policies and procedures in place that contribute to our safeguarding commitment, including our Child Protection Policy, this can be found at the bottom of this page.
The Academy has a safeguarding team led by the Designated Safeguarding Lead, Mr Sam Smee and Deputy Safeguarding Lead, Mr George Edwards.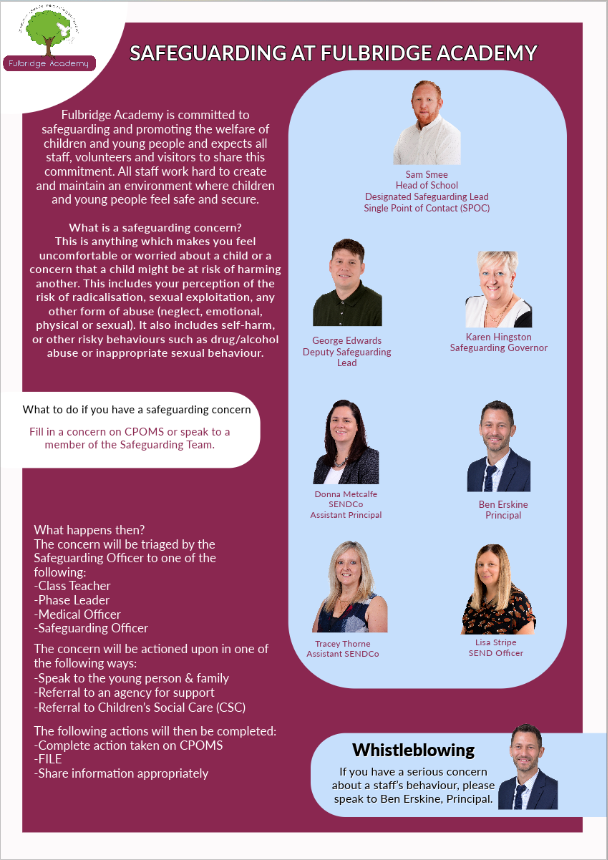 ***Updated September 2023
Our robust safeguarding measures ensure that all professionals are trained. We have a member of the Senior Leadership Team who is responsible for strategic safeguarding arrangements within the school. The Deputy Designated Safeguarding Lead oversees the day to day handling of concerns. The Deputy works closely with the SEMH (Social Emotional Mental Health) Lead, SEND Officer and SENDCo on all matters relating to the wider running of the Inclusion Team.
We have procedures in place to identify and report the potential for or realisation of extremist views and radicalisation which are reported to Sam Smee who is the SPOC (Single Point of Contact).
We are committed to supporting our students to develop the skills necessary to stay safe from abuse and to know whom to turn to for help. As a school we uphold the principles of 2020 Keeping Children Safe in Education guidance. This is published on the DfE Government website, alongside other relevant legislation and policies.
If you have any concerns please contact the Safeguarding Officer:
george.edwards@fulbridgeacademy.co.uk
Our Safeguarding Policy can be viewed in 'About Us/Policies' tab.
What support can we offer you and/or your child?
We have a Safeguarding Officer who works closely with all staff in school and liaises with external agencies for example, Children's Social Care, Police and Health Services to ensure a fully inclusive working relationship around all of our students.
We have access to external support through the Early Help process, if your child needs some additional support we can look at a whole family assessment to see which service would be most suitable. We work closely with support agencies such as Sleep Solutions, NSPCC and Family Action and we can also help support parents, carers and families with out of school worries for example, housing, debt and crisis.
---
Please click on the image below to view our Safeguarding and Child Protection leaflet.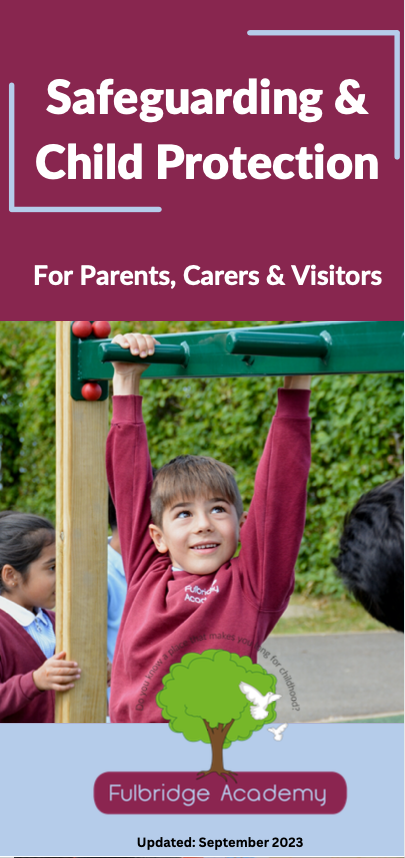 ***updated for September 2023